Meet The Woman Behind Every Dazzling Design!
Angel's dazzling journey began on the glistening sheets of ice in Lake Placid NY where she trained as a competitive figure skater in her formative years. In 1989, Angel was crowned Vermont's Junior Miss winning her a full 4 year scholarship to the state university of her choice. Alabama's Troy State University is where she chose to attend and where Angel would meet the love of her life David whom she would marry and have two wonderful sons. In 2009, after earning her Master's of Ministerial Leadership, Angel developed and lead the Children and Family Program at Southeastern University in Lakeland until 2019. ​ In October of 2016, Dazzling Driftwood was born when a bucket of crystal chandelier prisms Angel purchased at a local thrift shop landed on her back porch near a pile of driftwood. Immediately mesmerized by the contrast of elements Angel fashioned her first sun-catcher and Voila... Driftwood became Dazzled!
Hello and welcome to Dazzling Driftwood!
​
       Taking inspiration from the natural beauty of Florida's beaches, we travel from coastline to coastline scouring beaches for the raw materials we transform into our nautical-themed, unique creations for your home in our Dazzling Driftwood workshop and studio centrally located in Auburndale, Florida.
​
         We custom design and hand make wind chimes, sun catchers, chandeliers, and other light fixtures from salvaged driftwood and crystal chandelier prisms. We offer four varieties of wood finishes and chandelier crystals in a range of sizes and shapes for endless combinations of dazzle.
​
         After responsibly-gathered driftwood has been carefully selected and transported to our workshop, the magic begins. Each piece spends weeks in an eco-friendly process to clean and reveal the natural beauty of the wood. Driftwood pieces encrusted with barnacles or oyster shells from its epic journey on the high seas spend a little extra time in our Fire Ant piles to get them spic and span. While the driftwood is being beautified, we handpick reclaimed chandelier crystals to accent the piece and create a fantastic fusion of the weathered and the shiny. The finished result is a one-of-a-kind creation that is sure to "Dazzle!"
​
         Dazzling Driftwood showpieces are sure to become the new favorite home decoration and conversation starter, whether you want an accent piece for your porch like the Etched Sun-Catching Wind Chime, a personalized housewarming gift like Peace & Quiet, or a show-stopping Three Light Chandelier.
​
      Each of our designs is totally unique and completely customizable. Our products can be commissioned or engraved. We also offer a carefully curated box that includes all the materials you need to Build Your Own Dazzle. Choose one to create by yourself or select several to create with a crowd for a unique ladies night in.
​​
        Shop today to find your very own piece of Florida's stunning beaches with Dazzling Driftwood. If you would like to be the first to find out about the treasures we discover and get exclusive discounts, sign up here for our Dazzling Diva newsletter. We also share coastal decor inspiration, beachcombing tips and tricks, driftwood processing how-tos, chandelier crystal ideas, and more.

      Have Dazzling Dreams,
                                                                                 Angel Sims Artist and Founder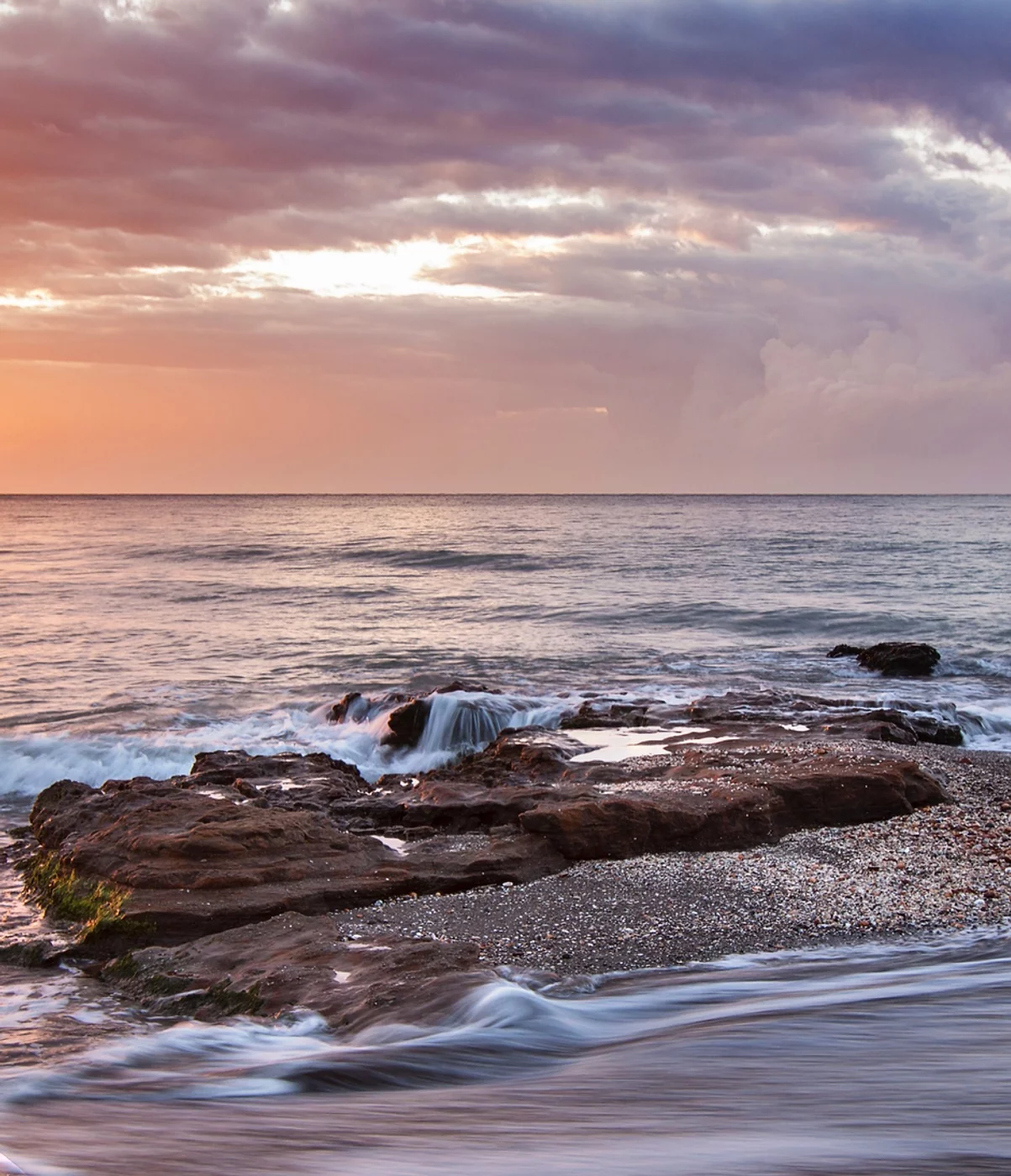 Frequently Asked Questions
Won't the crystals break in the wind?
Shockingly No...And the reasons are fascinating! Our creations are made with crystal which is at least 30% lead and thus, harder than standard glass. The lead allows artists to shape and cut in a way that regular glass cannot handle giving us our rainbows and added strength/weight. Additionally, we design our wind-chimes to move in subtle symmetry allowing the prisms to brush against each other as they dance in the wind instead of odd weights that "bang" against one another.
​
Please bring them in in case of tropical storm, hurricane, or if you are as fast as a tornado. Other than that, just make sure your chime will not hit anything hard and you are good to dazzle in any breeze.  
​
Where do I hang them?
This is an ever-growing list. Our sun-catching wind chimes are designed to go outdoors or ideally near a window so you get the complete show of the crystal clear tones and rainbows on your walls. There are just so many places!  Gardens become more dazzling, screen porches, sun rooms, over your fireplace, even from your ceiling fan.  One dazzler added a piece to the bottom of her chandelier making it more "chandelier-y". You can even hang them inside those small windows in your shower -- our chrome pins won't rust. The thing is, when you get one you will suddenly see all sorts of areas to dazzle.
Do you get the driftwood yourself?
Yes. it's actually a family affair!  We strap on our boots, slather on sunscreen, lots of bug spray and hit the beaches and mangroves. We weep a little as we find driftwood burned in campfires but imagine the fun had by good friends, plus we make sure to pick up trash all along the way.  
​
Now we have kayakers bringing us beautiful pieces! Our studio is inside a fantastic kayak shop, Action Watersports.
​
Where do you get your crystals?
Our crystal literally come from all over the world!  Most of our treasure hunting is done at flea markets and estate sales, but we also have secret shoppers who are constantly on the lookout. PLUS... we buy crystals from friends like you! If you have some old antiques or other dazzling home decor that you would like to give a new life, please send us a message.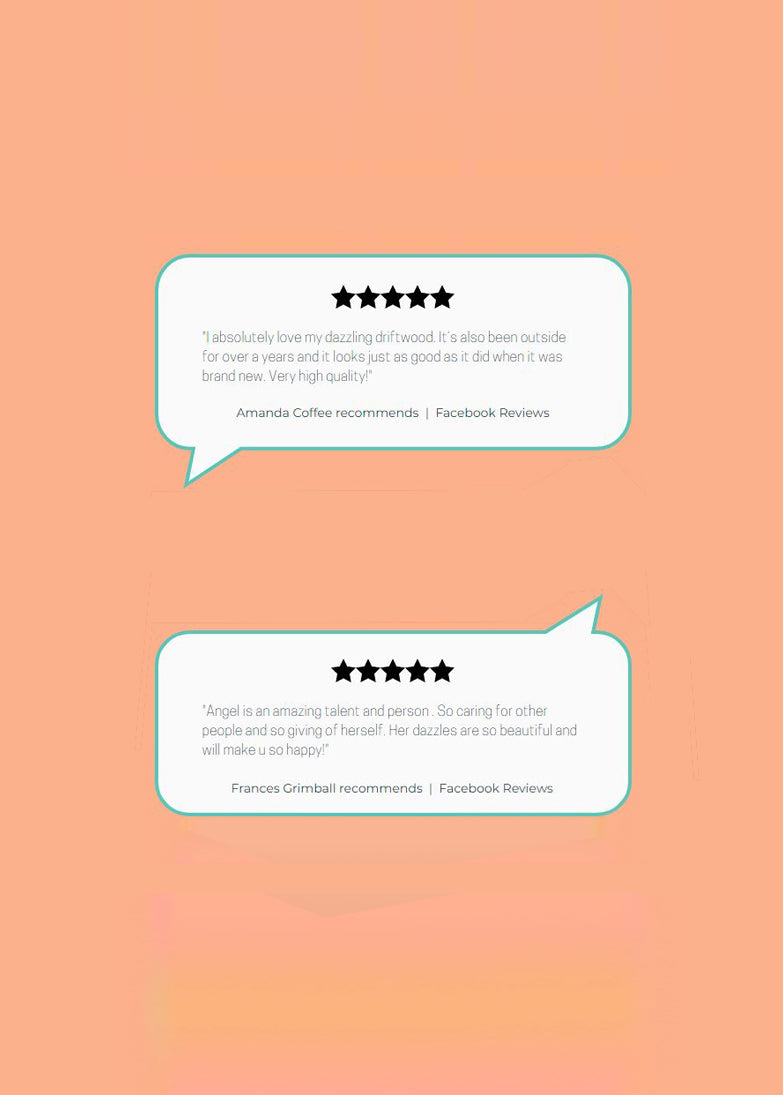 Do you do custom work?
Yes, we love making dazzling dreams come true! Just give us a glimpse of your vision and we will make it happen.  We can tweak any design you see or start from scratch; you just say the word.
​
Do you use acrylic beads?
NO, NO, NO... no plastic, no where, no how, not even on our tags! You will find only glass and high quality crystals here. Click here to see our current shapes and colors.
What is The Dazzle Room?
In the Dazzle Room you and your friends will be guided through the creation of your very own sun-catching wind chime. Learn about the materials and have fun with endless combinations. Booking for the Dazzle Room is available by submitting a request on the homepage or by phone. Schedule a time to visit in-person or an online session. There is no charge for scheduling a session. Contact us for large parties such as bridal showers, birthdays, girls night out, etc.
​
What are Dazzling Rewards?
Dazzling Rewards are given to customers who sign up for our Dazzling Membership. Membership is free to sign up. Earn Dazzle Points by making purchases from our online store, following us on social media and referring your friends. Click here to sign up now! Have questions about redeeming and earning points? Watch this how-to video.