100% Satisfaction Guaranteed
At Your Service: Our team is always here to help, 7 days a week. We commit to protecting the privacy of your personal information. High Quality: We are completely confident with the quality of our products. We'll let you know if your choice is not at its best. Art of an Expert: The owner is also the artist behind these magnificent creations. From its conceptualized details and design, she creates each piece to be totally unique and one of a kind.​Connecting at Heart: We share our passion to benefit those in need. We donate5% of every sale to persons with special needs in China.​Eco-Friendly: The driftwood pieces found in our beautiful work is picked from the beaches of Florida. No trees have been cut down for the benefit of these creations.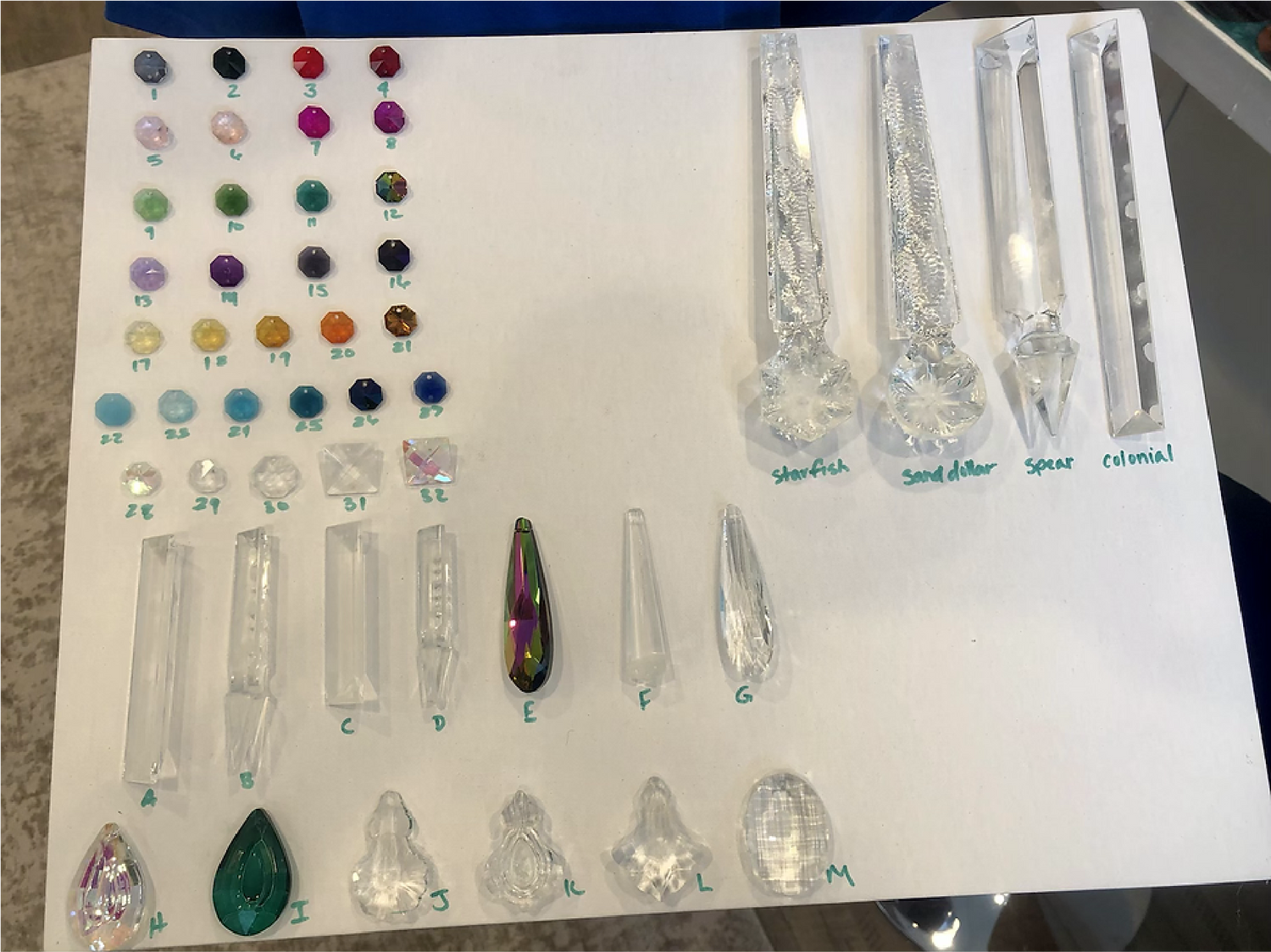 Crystal Colors & Shapes
Click the photo gallery to the right to enlarge images of our crystals. Please note that due toscreen/monitor settings, as well as the unique nature of up-cycled crystals, the colors in youritem may vary slightly from what you see here. We do our best to provide accurate colorrepresentation and are happy to send additional photos at your request.​ Click here for current in-stock crystal options.
Return Policy
​Dazzling Driftwood guarantees your absolute100%satisfaction. You may return any item within10 daysof the purchase date for an exchange or complete refund of the amount you paid for the product. Any returns authorized after 10 days are at our discretion and the return will only be eligible for in-store credit.
           Processing time may vary depending on daily return volume however your return will typically be processed within one to three business days of being received.
​
Dazzling Driftwood will provide a pre-paid return label for a return when:
The item is defective.
The item is received damaged.
The incorrect item was shipped.
​
Fees paid for shipping (excluding International shipping fees) are eligible for credit or refund when:
The item is defective.
The item is received damaged.
The item was not delivered on-time for guaranteed shipping methods. (Unless, the courier deems the service failure was due to something beyond their control; including weather.)
​
Product exchange for a non-defective or undamaged return:
The customer is responsible for the outbound shipping fee for new products.
​
For International customers, our standard product return instructions apply with the exception of the following:
Duty, taxes or brokerage fees collected at time of delivery are not eligible for refund or credit. 
Each piece is carefully wrapped to ensure safe travel. Please inspect your new piece of seaside glamour upon opening. If you are unhappy with your product in any way, please return it in the original packaging postmarked within ten business days or give us a call for a full refund excluding return shipping charges.
​
We stand behind our work and strive to make you happy. Please contact us with any issues as long as you own your piece of dazzling driftwood. Unless otherwise requested we use USPS and will provide complete tracking information as your purchase completes its journey to your home.